2014 Report Card for Pennsylvania's Infrastructure - Press Release Announcement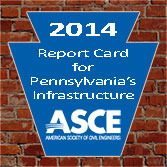 The 2014 Report Card for Pennsylvania's Infrastructure was officially released at 12:01AM on June 25, 2014. The PA Report Card assigns letter grades in several categories including transportation, public transit, water resources, and other important infrastructure topics relating to public safety and economic development. The Philadelphia Section held a press conference at 30th Street Station to release and discuss the Report Card... check out the video You can find the report card at www.pareportcard.org/.
Paper Newsletters Make A Digital Comeback
Thanks to Bob Wright, our newsletter editor, we've added newsletters dating back to 1998 to a new section of the News called the the News Paper Archive.
UPDATE: Joseph Syrnick's archive of newsletters dating back to 1973 were recently unearthed from the Philadelphia Streets Department archives. This vast history of ASCE newsletters has been digitized and added to the News Paper Archive. Special Thanks to Joe for saving these important documents!
If you have older newsletters to contribute, or can fill-in some of the newsletter gaps, please contact our webmaster.
ASCE Report Card Released - Available in Mobile App Format!

Every family and business needs infrastructure to thrive – from your road to work, to your internet, to the pipes bringing clean water to your house. In a new app format, the American Society of Civil Engineers' 2013 Report Card for America's Infrastructure puts the most comprehensive and clear reference about America's infrastructure in your pocket. Complete with videos, state profiles, and interactive content, this app shows how our infrastructure is doing and what needs attention.
Centennial Book Update
To memorialize our 100th Anniversary season and cite the many local landmarks, facilities and efforts that have been brought "to life" by members of our Section over that time, we are creating a keepsake commemorative Centennial Book, which we anticipate having ready for our upcoming Spring Social. To help offset the cost of printing, sponsorship opportunities are available for individuals and companies.  All sponsors will be listed in the book.  Two levels of sponsorship are available – Engineer ($100) and Patron ($50).  If you are interested in sponsoring the book, please contact our President, Jennifer Walsh at jwalsh@mcmahonassociates.com
Additionally, we are making a general call for information, particularly photos. If you have information to contribute, please contact Tom Brady at tbrady@rkk.com. Sponsorship and materials for use in the Book must be received by March 31.
Philadelphia 2015 Section Awards Announcement
The Philadelphia Section is seeking nominations for our 2015 Awards Program. The Nomination Deadline is January 30th at 5PM. If you know an active and deserving Civil Engineer, please consider nominating them for one of the following 14 awards:
| | |
| --- | --- |
| - Philadelphia Civil Engineer of the Year | - Community Outreach and Service Award |
| - Philadelphia Young Civil Engineer of the Year | - Civil Engineering Manager of the Year |
| - Philadelphia Government Engineer of the Year | - Construction Engineer of the Year |
| - Philadelphia Young Government Engineer of the Year | - Geotechnical Engineer of the Year |
| - Government Service Award | - Structural Engineer of the Year |
| - Educator of the Year | - Transportation Engineer of the Year |
| - Philadelphia History and Heritage Award | - Water Resources Engineer of the Year |
If you are interested in submitting a nomination for consideration, please contact Bob Wright, Committee Chair, at 215-922-8081, x1647 (or via e-mail at newseditor@asce-philly.org) to obtain a nomination form.  You may also call Bob if you have any questions or need any additional information on the Section Awards Program.
Student Scholarship Awards Available
Each year the Section awards scholarships to deserving undergraduate civil engineering students. This year's awards applications have been posted in our Students section. We encourage all of our student members to apply for these awards. Please contact Andrew Bechtel at bechtela@tcnj.edu if you have any questions. Applications are due by January 31, 2015.
Monthly Meeting Schedule for 2014-2015
Save these dates. We'll update you as the dates, locations, and topics are finalized. Most meetings occur 5:30PM-8:30PM. Please let us know if you have recommendations for a speaker or topic.
Wednesday, January 21st - Radisson Hotel/Valley Forge Casino (6PM - 9PM) - Topic: ASCE PA Report Card
Thursday, February 12th
Thursday, March 12th
Thursday, April 9th - Villanova Conference Center, Radnor - Multi-topic breakout session meeting.
May 2015 - Spring Social
View our upcoming events as a calendar.