Local News Story Features ASCE's Report Card for Pennsylvania's Infrastructure
In June of 2014, the Philadelphia Section, along with the other three Pennsylvania Sections, simultaneously released the 2014 Report Card for Pennsylvania's Infrastructure across the state. Immediately after its release, the Report Card garnered a lot of publicity in the newspapers and on local television news reports. Even more recently, in November of 2014, the report card prepared at the national level received a lot of attention by way of a story that aired on CBS 60 minutes. Shortly after that story aired, the Philadelphia Section was contacted by a local reporter to do a story that discusses the infrastructure needs of Pennsylvania. Having recently completed the PA Report Card, the Philadelphia Section was able to work with NBC Philadelphia to provide some technical expertise related to infrastructure.

Here is a video that NBC Philadelphia ran on February 12, 2015 that looks at the issues surrounding Pennsylvania's structurally deficient bridges. To read the full article, visit NBC's website by clicking here: Bad Bridges Slow Response Time for Firefighters
2014 Report Card for Pennsylvania's Infrastructure - Press Release Announcement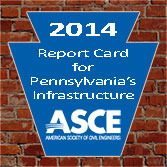 The 2014 Report Card for Pennsylvania's Infrastructure was officially released at 12:01 AM on June 25, 2014. The PA Report Card assigns letter grades in several categories including transportation, public transit, water resources, and other important infrastructure topics relating to public safety and economic development. The Philadelphia Section held a press conference at 30th Street Station to release and discuss the Report Card... check out the video You can find the report card at www.pareportcard.org/.
Philadelphia Water Department Announcement
Effective for new projects submitting on July 1, 2015, the Philadelphia Water Department is updating its private development stormwater regulations to meet Federal and State requirements under the Clean Water Act. For up-to-date information about the changes, please visit: www.PhillyWatersheds.org/StormwaterRegulations. PWD is planning several presentations and information sessions about the changes. Please visit the above website and the next issue of The News for more information.
Centennial Book Update
To memorialize our 100th Anniversary season and cite the many local landmarks, facilities and efforts that have been brought "to life" by members of our Section over that time, we are creating a keepsake commemorative Centennial Book, which we anticipate having ready for our upcoming Spring Social. To help offset the cost of printing, sponsorship opportunities are available for individuals and companies.  All sponsors will be listed in the book.  Two levels of sponsorship are available – Engineer ($100) and Patron ($50).  If you are interested in sponsoring the book, please contact our President, Jennifer Walsh at jwalsh@mcmahonassociates.com
Additionally, we are making a general call for information, particularly photos. If you have information to contribute, please contact Tom Brady at tbrady@rkk.com. Sponsorship and materials for use in the Book must be received by March 31.
Monthly Meeting Schedule for 2015
Save these dates. We'll update you as the dates, locations, and topics are finalized. Most meetings occur 5:30PM-8:30PM. Please let us know if you have recommendations for a speaker or topic.
Thursday, April 9th - Villanova Conference Center, Radnor - Multi-topic breakout session meeting.
View our upcoming events as a calendar.